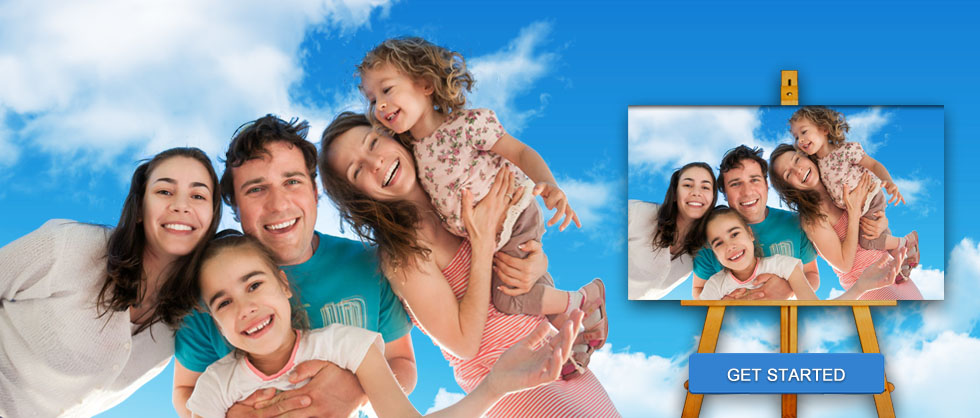 Terms Of Sale
These Terms of Sale apply to all offers made by Wieco Art, all orders placed by you and all agreements concluded between us in relation to the products and services offered on this website.
Return Rights
We are committed to quality products and your satisfaction is 100% guaranteed.
If for any reason you are not completely satisfied with your purchase, you may return it within 30 days of receipt and receive a free replacement or a full refund for the price of the product. Shipping charges will not be refunded.
If your order should arrive in less than satisfactory condition, we offer a convenient Photo Return option. Simply take a digital photo of the item and one of the shipping container it arrived in, attach them to an email and send toSupport@wallartshopping.com. Please include in the body of the email: your order number, the shipping ID or item number, a brief description of the reason for the return, and let us know whether you are seeking a replacement or a refund. Your request will be processed within 48 hours and you will receive an email letting you know your replacement is under production or your refund is being processed.
To return your item(s) please pack them in the original tube or box and include the completed Return Instructions form which you will find on the back of the Packing List included with your order. Be sure to specify the reason for the return and what action you would like us to take: replacement or refund. We strongly encourage you to return your item via a trackable method.

Prices; Colors; Availability
A prices listed on the Sites are subject to change. In the event a product is listed at an incorrect price or with incorrect information due to typographical error or error in pricing or product information received from our suppliers, we shall have the right, prior to the acceptance of your order pursuant to our Order Acceptance Policy described below, to refuse or cancel any such orders whether or not the order has been confirmed and your credit card charged. If your credit card has already been charged for the purchase and your order is canceled, we shall immediately issue a credit to your credit card account in the amount of the charge.
Please note that the colors of items and products may depend on your monitor and may not be correctly displayed.
The availability of products and other items on each of the Sites may change at any time, without notice.

Order Acceptance Policy
Your receipt of an electronic or other form of order confirmation does not signify our acceptance of your order, nor does it constitute confirmation of our offer to sell. We reserve the right at any time after receipt of your order to accept or decline your order for any reason. We reserve the right at any time after receipt of your order, without prior notice to you, to supply less than the quantity you ordered of any item. We may require additional verifications or information before accepting any order. Your order is not accepted until we send you shipping information for the order (or the accepted portion thereof). Notwithstanding the foregoing, you agree that, if we cancel all or a portion of your order or if we provide you less than the quantity you ordered, your sole and exclusive remedy is either (a) we will issue a credit to your credit card account in the amount charged for the cancelled portion or the quantity not provided (if your credit card has already been charged for the order) or (b) we will not charge your credit card for the cancelled portion of the order or the quantity not provided.

Sales Tax
Sales taxes, or other taxes, customs, import/export charges, or similar governmental charges are not included in the price of the Products.
Each customer shall be solely responsible for all sales taxes, or other taxes, customs, import/export charges, or similar governmental charges (except for taxes on Provide Commerce's net income), on orders shipped to any other state or on orders shipped outside the United States.
We do not collect sales or use taxes in all states. For states imposing sales or use taxes, your purchase is subject to use tax unless it is specifically exempt from taxation. Your purchase is not exempt merely because it is made over the Internet or by other remote means. Many states require purchasers to file a sales/use tax return at the end of the year reporting all of the taxable purchases that were not taxed and to pay tax on those purchases. Details of how to file these returns may be found at the websites of your respective taxing authorities.

PRODUCT DESCRIPTIONS
We attempt to describe our products offered as accurately as possible. However, we do not warrant that product descriptions or other content of the website are 100% accurate, complete, reliable, current or error-free. If a product offered by us and purchased by you is not as described, your sole remedy is to return it in unused condition for a conforming replacement, refund or credit.

DISCLAIMER
We are not liable for any financial damage (including but not limited to the cost of any replacement purchase) that may occur because of non-timely arrival or any lack of availability or conformity of the product.

APPLICABLE LAW
The offers by Wieco Art, your orders, and the agreements between us for the delivery of our services and products are subject to the laws of the State of California. The state or federal courts located in Alameda County, California will have exclusive jurisdiction to settle any dispute between us in relation to our products or services.

MODIFICATION AND SEVERABILITY
We reserve the right to make changes to our website, our policies, our Terms of Use and these Terms of Sale at any time and in our sole discretion. Therefore, you should review our policies, terms and conditions each time you visit the website. Your continued use of the website after we make any such changes constitutes your binding acceptance of those changes. If any of the terms or conditions herein shall be deemed invalid, void, or for any reason unenforceable, that term or condition shall be deemed severable and shall not affect the validity and enforceability of any remaining term or condition.